Card Making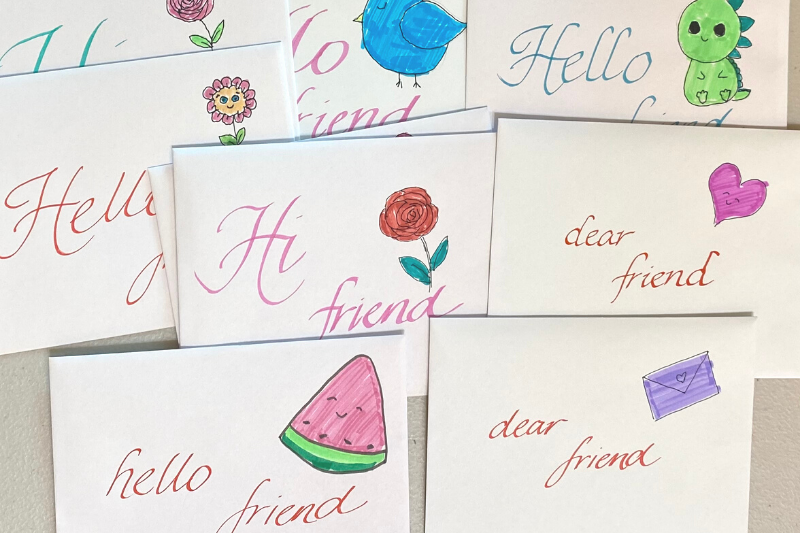 SPREAD JOY
At Serving Seniors, many of the older adults we serve do not have large networks of family and friends. Many seniors would benefit from friendly connections during this deeply isolating time. The health impacts of loneliness are significant. Your expressions of love and gratitude have the power to brighten a senior's day by reminding them the community is holding them in their hearts.
Please consider writing letters, notes of encouragement, drawings or holiday cards. This can be a great at-home activity for youth and helps deepens intergenerational connections. Cheerful messages from all ages are encouraged! Your cards will get sent to seniors throughout San Diego County with their daily meal deliveries.
GUIDELINES FOR HOMEMADE CARDS
Please be mindful of the diversity among our clients and select images that would appeal to a broad audience and language that respects the dignity and individuality of older adults.
Avoid religion; your letter should resonate with anyone.
Focus on the positive! Avoid words of condolence or sympathy. 
Envelope your letters if you can, but please leave the envelopes unsealed and unstamped.
Letters must be legible (large print) and handwritten.  No worries if you are not artistic – make your card as what you would like to receive.
Embrace creativity! Our clients love it when the letters are personal. We encourage you to make your letters colorful and fun – photos, crosswords, and drawings are great.
Due to our confidentiality policy, we cannot provide specific names for you to address your cards.
Feel free sign the card with your first name, but please do not include your full name or other personal identifying information.
Send us as many cards as you would like. We accept letters year-round.
If you would like to send cards for a specific holiday, email us to ask about the deadline for receiving cards for that holiday.
INTERESTED? NEXT STEPS:
Please download and complete our Volunteer Card Making Form. Include the form with your cards and MAIL TO:
Gary and Mary West Senior Wellness Center
Attn: Christina Selder
1525 Fourth Ave.
San Diego, CA 92101
QUESTIONS:
For questions or to get mail deadlines for any holiday-related cards, please reach out to the volunteer team at 619-487-0621 or volunteer@servingseniors.org.
Thank you!