Nutrition Support - Bagging To Go Meals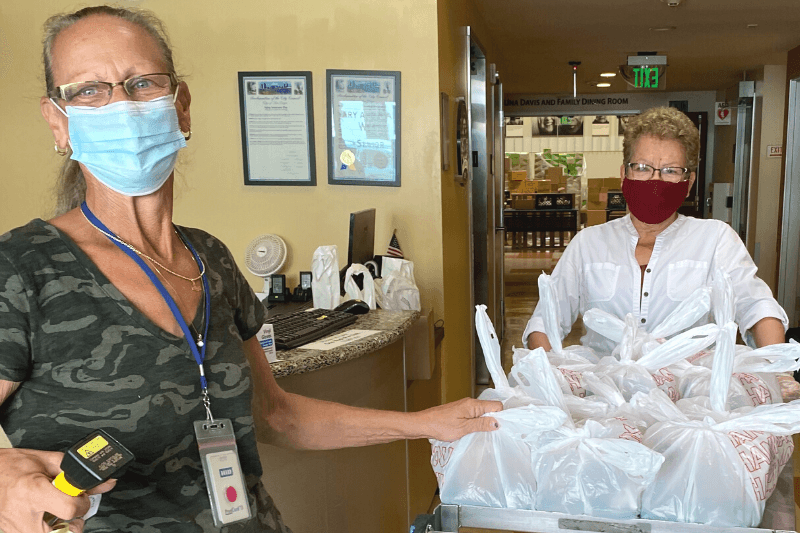 Purpose and Objective: To help our Nutrition Team this holiday season with bagging and serving To Go meals for our seniors at the Wellness Center.  Your warm smile and welcome will help create a sense of community and respect for Serving Seniors members receiving our meals.   
Location:
Gary and Mary West Senior Wellness Center – Dining Room 

1525 Fourth Avenue, San Diego, CA 92101 
Supervisor:  Kathy Montgomery 
Responsibilities  
Help kitchen staff place meal boxes in bags 
Serve seniors meal bags in To Go line outside the Wellness Center 
Greet and treat every senior with respect and dignity 
Qualifications and Required Skills  
Fully vaccinated against COVID-19 and can provide proof of such with completed vaccination card 
Completed volunteer application and cleared background check 
Able to stand for at least one hour at a time 
Able to lift more than 5 lbs 
Able to push a cart 
Comfortable working in a cafeteria/kitchen setting 
Transportation to and from site 
Appropriate Attire  
Comfortable, closed-toed shoes 
Casual but professional 
Mask required 
Long hair pulled back 
Apron and gloves (provided) 
Time Commitment:  
Lunch shifts (10:45 am – 12:00 pm and 12:00 pm to 1:00 pm) available 
Next Steps:
For more information or to sign up, please contact the volunteer team at volunteer@servingseniors.org or 619-487-0621.