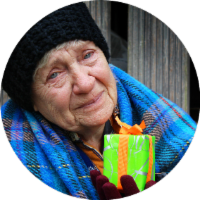 Serving Seniors' Civic Engagement Committee engages and empowers low-income seniors in addressing challenges that impact the senior community. The committee is comprised of senior advocates who meet weekly to identify concerns and work together with Serving Seniors to develop strategies that address key issues impacting the aging population in San Diego County.
Serving Seniors' Civic Engagement Committee believe that even a senior living on limited means can experience the joy of giving. That's why, at this special time of year, we make it our mission to give back to the community. This December, we are bringing twice the holiday cheer with two special events: our annual White Elephant Sale and our Holiday Homeless Giveaway.
Started in 2011, the White Elephant Sale is the Civic Engagement Committee's twice-yearly rummage sale, held each June and December at Serving Seniors' Gary and Mary West Senior Wellness Center. Items are donated by generous supporters, and include clothing items, household goods, holiday décor, books, and more. The Civic Engagement Committee sells these items at a minimal cost directly to our fellow seniors at the Wellness Center.
When you are a senior living on limited financial resources, it can be challenging to afford everyday necessities beyond food and rent, not to mention the added expense of the holidays. The White Elephant Sale makes it easier for Serving Seniors' low-income clients to afford everyday necessities as well as modest Christmas gifts for friends and family. Thanks to this event, every senior can experience the joy of giving and the true spirit of the holidays.
Proceeds from the White Elephant Sale support the Civic Engagement Committee's projects, events, and activities, helping us advocate for the needs of our peers without relying on financial support from Serving Seniors. This year's White Elephant Sale was held on December 5, 2019, and raised over $800 to support our activities. Thank you to all of the generous individuals and corporations who donated items to the sale; to Tim Ruis, the Director of Activities and Volunteers at Serving Seniors, for coordinating these donations; and for the more than one hundred seniors who participated.
In addition, the Civic Engagement Committee is currently planning its Holiday Homeless Giveaway. Sponsored in partnership with the Alpha Project, the Holiday Homeless Giveaway is an annual opportunity, taking place the Saturday before Christmas, for the Civic Engagement Committee to go out into the community and provide gifts of blankets, sweaters, jackets, shoes, socks, and toiletries to homeless individuals spending the holidays on the streets. Recipients also enjoy a pancake breakfast prepared by Pancake Peeps. This event helps ensure that our homeless neighbors of all ages have the items they need to get through the cold winter, and gives an opportunity for seniors to give back.
This year's Homeless Giveaway will be held Saturday, December 21, at 9:00 a.m. next to the Homeless Veterans Tent in the Midway area. If you would like to donate items to support this event, please contact Tim Ruis at 619-487-0727 or tim.ruis@servingseniors.org and arrange a drop-off by December 20. Thank you for your support.
From the Civic Engagement Committee to the friends and supporters of Serving Seniors, best wishes for a joyous holiday season and a successful 2020.
-Ted Wills, Member of the Civic Engagement Committee