Cyber Café Volunteer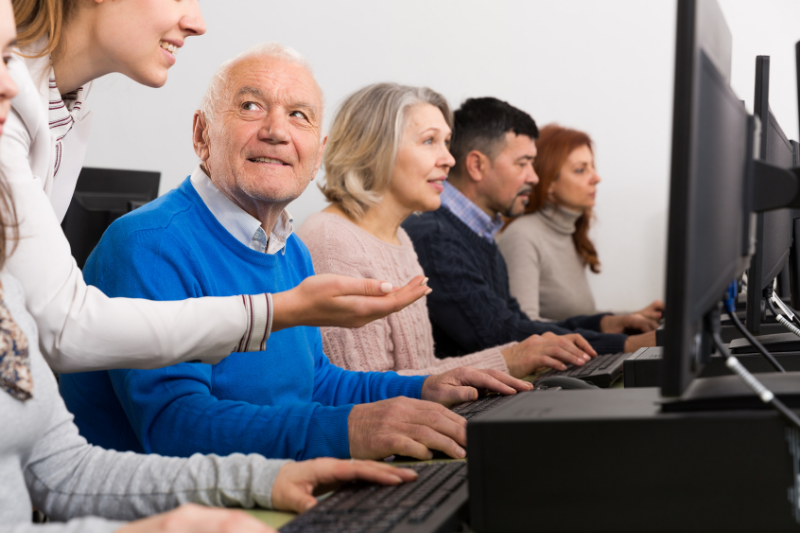 Duties:
Greet customers who come into the Cyber Cafe
Scan Serving Seniors membership card of each person who comes in to use a computer
Enter user information on paper register
Help customers with basic computer usage as needed (skill level ranges from beginner to advanced)
Monitor computer usage and notify Julie or security if there is improper usage
Assist with wiping down keyboards, mouse, and work station between computer users.
Qualifications:
Must wear a mask inside the café
Must be 18 years or older
Must have basic computer tech knowledge, such as Word, Facebook
Knowledge of smart phones/tablets, other tech very helpful
Have a calm and positive customer service attitude
Time Commitment:
We are seeking volunteers who are able to make a regular time commitment, but we are flexible on the amount of time and days of your volunteer shifts.
Minimum shift duration of 2 hours
Volunteer shifts may be scheduled anytime M-Th 8:00am-3:30p, F-Sa 8:00am-noon
 Our Cyber Café manager will work with you to coordinate your exact volunteer schedule and time commitment
Steps to Initiate Service:
Please fill out our online volunteer application and then email volunteer@servingseniors.org to express your interest in this volunteer opportunity
Our Volunteer and Activities Team will guide you through our volunteer clearance process.
Once cleared, you will be connected with our Cyber Café Manager for a 30-minute on-site meeting and site tour. 
At this meeting, you and the Cyber Café Manager will coordinate your volunteer schedule.
Cyber Café volunteers who serve 32 hours/month will be eligible for a stipend of $148/month.  A prorated stipend is available to Cyber Café volunteers who serve 16 hours/month.