The seniors we serve often struggle to meet their most basic needs. You can help provide relief by organizing a drive or donating essential items from our wish list!
  COVID-19 SAFETY PROTOCOL UPDATE, Nov. 10, 2020     
Due to the COVID-19 Purple Tier Status in San Diego County, all donation deliveries must be by appointment only. We can only accept items on the Wish List at this time. Items must be new/unused. Please contact Christina Selder, christina.selder@servingseniors.org or (619) 487-0747 to schedule a donation delivery. Thank you for your commitment to keeping our community healthy and safe while supporting seniors and their critical needs during this time.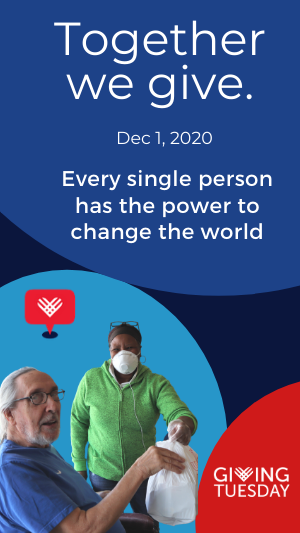 Special GivingTuesday Donation Drive
GivingTuesday is a global day of generosity taking place on December 1st.  It is an opportunity to unite as a community and support at-risk seniors in safe ways that allow for social connection and kindness even while practicing physical distancing.
We all have gifts to give! Consider participating in our GivingTuesday Holiday Donation Drive OR learn more about other opportunities to participate in our special GivingTuesday Event HERE! 
GIVINGTUESDAY WISH LIST ITEMS:
Essential Care Items
Cloth masks
Blankets
New socks (all adult sizes)
New undergarments and undershirts (all adult sizes –male/female)
New sweaters, sweatshirts/hoodies and sweatpants (all adult sizes – male/female)
New bath towel sets
Household cleaning products (new kitchen towels included)
Gift cards: VISA, Walmart, Target, Ralphs, Albertsons, Starbucks, CVS Pharmacy, Subway, 7-eleven
Bus passes and Trolley passes (loaded Compass Cards)
Social Isolation Items
Activity books: crossword puzzles, adult coloring books, etc.
Pens and colored pencils
Art supplies: Canvases and oil pastels
Puzzles
Decks of cards
Current magazines
Gift cards to local garden nurseries or hardware stores (Lowes, Home Depot, etc.)
Gift cards to craft stores (JoAnne's, Michael's, etc.)
Holiday cards, drawings or notes of encouragement
GIVINGTUESDAY DONATION DROP OFF DETAILS:
Drop off Schedule:
December 1st between 8AM-10:30AM and 1:30PM-4:30PM.
*Please note, we cannot receive items between 11AM-1PM due to senior meal service and social distancing requirements.
Donation Drop off Location:
Gary and Mary West Senior Wellness Center, 1525 4th Ave, San Diego, CA 92101
TO DROP OFF ITEMS BEFORE 12/1:
Please contact Christina Selder at (619) 487-0747 or christina.selder@servingseniors.org. 
SEND A HOLIDAY CARD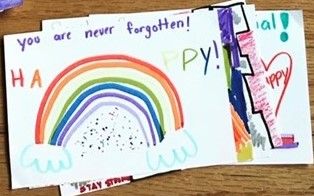 Happiness thrives, but still needs your help. Many older adults would benefit from friendly connections during the holidays and this deeply isolating time. The health impacts of loneliness are significant. Please consider writing letters, notes of encouragement, drawings or holiday cards. This can be a great at-home activity for youth and helps deepens intergenerational connections. Cheerful messages from all ages are encouraged! 
Mail cards: 
Gary & Mary West Senior Wellness Center
Attn: Elle Leidy
1525 Fourth Ave.
San Diego, CA 92101