Due to the COVID-19 pandemic, all 15 of Serving Seniors congregate dining sites have temporarily closed, effective immediately.
Home delivery meal service is still operating at full capacity; however, due to an unprecedented number of meal delivery sign-ups, we are currently at capacity and can no longer accept new senior clients.
To Go meals are available for pick-up at our Gary & Mary West Senior Wellness Center from 7-8 a.m. and 11-1 p.m.
Thank you for your support, patience and understanding during these difficult times. For the most up-to-date information about coronavirus response efforts, please visit our COVID-19 page.
Serving Seniors provides over 640,000 nutritious meals a year. Designed in partnership with a Registered Dietician, our meals provide one-third of our clients' nutrition requirements and accommodate a wide variety of dietary needs including low-sodium and low-fat diets.
Unlike similar programs, we never charge a fee, ensuring that no senior, regardless of income, ever has to go hungry.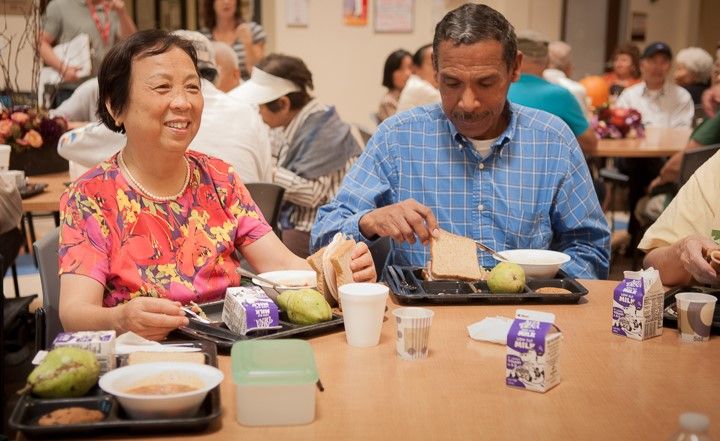 Congregate Meals
We serve breakfast and lunch daily at 11 sites across San Diego County, as far south as San Ysidro to as far north as Oceanside. In addition to meeting the nutrition needs of our clients, this program acts, for many of our clients, as the center of their social lives. Lonely and socially isolated seniors are encouraged to engage with their peers and make friends, which contributes to physical and psychological wellness. 
For a list of our congregate meal sites and meal times, click here. For general information about our meal programs, please call 619-235-6572.
Home-Delivered Meals
We deliver fresh, nutritious meals (breakfast and lunch) directly to the homes of over 600 homebound seniors a day. Meals are delivered five days a week, with extra meals provided each Friday to ensure our clients have plenty to eat over the weekend. Our drivers are trained to identify any potential health or social issues clients may be experiencing, and work with our Home-Delivered Meals Support Services Coordinator to ensure appropriate assistance is provided.
Please click the regions below for a list of areas we serve by zip code. 
North Region

Zip Codes:

92054

92056

92057

92058

92083

92084

92126

92127

92131

Central Region

Zip Codes:

92101

92102

92103

92104

92105

92113

92114

92155

92116

92139

 

East Region

Zip Codes:

92141

92142

91945

91977

91978

92019

92020

92021

South Region

Zip Codes:

91910

91911

91913

91932

91950

92154

92173
Current Menu for Home Delivered and To-Go Meals