A Senior Center Unlike Any Other
September is National Senior Center Month, a time to celebrate the thousands of institutions countrywide that are like a second home to our nation's older adults—institutions like Serving Seniors' Gary & Mary West Senior Wellness Center.
Redefining the Senior Center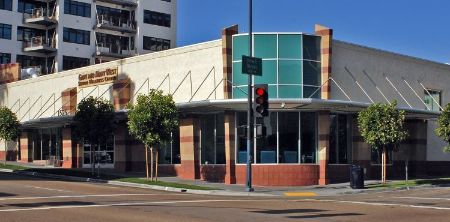 When we think about senior centers, we often think of congregate lunches, bingo, and socialization. However, Serving Seniors' Gary & Mary West Senior Wellness Center (GMWSWC) was built on the idea that a senior center can be so much more.
Opened in 2010, our GMWSWC is unlike any other senior center in the United States. This innovative, leading-edge facility not only provides two servings of breakfast and three servings of lunch daily, but offers two floors of coordinated resources designed to keep seniors healthy and living independently in their homes for as long as possible.
The GMWSWC offers social services, nurses, health education, housing assistance for homeless seniors, and a range of activities that go far bar beyond bingo. Each year, Serving Seniors offers more than 850 classes and activities such as Feeling Fit Club, tai chi, travel and culture classes, healthy cooking demonstrations, talent competitions, games, arts and crafts, and a daily walking group. Our Cyber Café offers free computer and printing facilities, and volunteer students from High Tech High frequently come and assist our seniors in using the computers.
Our Collaborative Model
In addition to the wraparound services and resources provided on-site, our GMWSWC is unique thanks to its collaborative model, with more than 25 collaborative partners providing services on-site at the GMWSWC each month. Our partners include California Western School of Law, which provides law students offering legal advice; Sharp Health, which provides a Psychiatric Nurse offering mental health services and group counseling; and many more.
The GMWSWC is also the official home of the Gary & Mary West Senior Dental Center, a separate 501(c)(3) nonprofit organization providing free and affordable dental services to low-income seniors. Our clinical team of nurses, case managers, and care navigators works closely with the Dental Center to provide access to oral health services and meet the wraparound health and wellness needs of clients receiving dental care.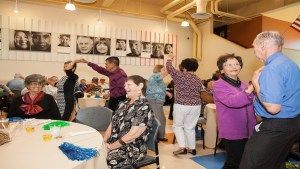 Celebrate Good Times
The GMWSWC isn't all about services and meals. We also like to celebrate our clients and show them how special they are to us. Every month, we partner with corporate groups and individuals to host social activities, holiday parties, and even a Senior Birthday Party for all of the seniors celebrating a birthday in that month, complete with cake, punch, and gifts. These celebrations are key to promoting socialization, building connections between seniors, and recognizing the worth of older adults who often do not have any children or family—no one to celebrate their special day.
Our senior center is special because when a senior walks through our doors, they not only have opportunities to make new friends and socialize with old ones, but they have access to a range of comprehensive wraparound services. Serving Seniors is the only organization in San Diego County—and one of the few in the country—offering such a broad base of services to this vulnerable population, let alone under one roof.
Visit Us
The Gary & Mary West Senior Wellness Center is located at 1525 Fourth Avenue, San Diego, CA 92101, and is open 365 days a year from 7:00 a.m. – 4:00 p.m. The GMWSWC is accessible to all seniors aged 60 and older.
In honor of National Senior Center Month, please consider making a donation in support of our services or sponsoring a social activity at the Gary & Mary West Senior Wellness Center.
For more information about sponsorship opportunities, contact Luke Dumas at (619) 487-0746 or luke.dumas@servingseniors.org.