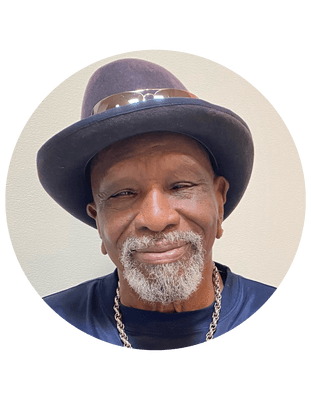 San Diegans have been experiencing a surprising amount of rainfall within the last month. While many would like nothing more than to stay inside and avoid the unfavorable weather, our dedicated volunteers continue to show up for our seniors!
One volunteer in particular can be found at Serving Seniors Gary and Mary West Senior Wellness Center nearly every day serving our clients lunch in the dining hall. Charles has been dedicating his time to our seniors for the past ten years. Previously, he has also assisted with our breakfast services, starting our clients' days right with a warm smile and welcoming presence. "You need to meet people where they are to successfully engage them," Charles says, "Some folks don't like to talk too much, but you can still bring a smile to their face."
Outside of Serving Seniors' programs, he also has been a part of a food distribution program, which was run out of his home as well as a nearby senior apartment community. Originally from Texas, Charles moved to San Diego at age 18. He has worked for the City of San Diego for 22 years and is still working to this day!
After taking a hiatus from volunteering a few years back, Charles returned to Serving Seniors and now works nearly every lunch service we offer. As a senior himself, Charles understands the importance of remaining active and social. He keeps himself fit by going to the gym and taking in the fresh air at local parks. When at home, he works on restoring his '87 Camaro and watching the planes come and go across the water from his balcony.
Charles truly finds joy interacting with both the volunteers and clients at Serving Seniors. "I really enjoy the family of volunteers we have here." We are so thankful for Charles continued dedications to our seniors!
Serving Seniors offers many meaningful opportunities for both individual volunteers and corporate groups! Bring joy to seniors by sponsoring a Senior Birthday Party!
For more information and to sign up today contact volunteer@servingseniors.org or visit our volunteer page.