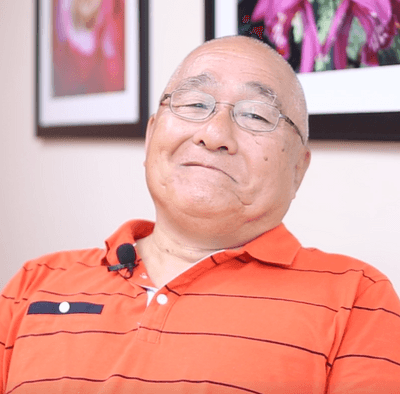 A Journey of Faith
John never expected to be homeless, until he was. Having worked 34 years at Sharp Grossmont Hospital in the environmental services department, John now uses his free time to volunteer and give back to the community as a pianist for the same hospital. Patients and staff alike are so thankful to have him because his music helps them to relax in, what can be, a stressful environment. Being in the same room as John is electric; his positivity radiates from within and is seen through his smiling demeanor. You would never guess the journey he has been through.
John's security was suddenly taken from him when he was evicted from his Normal Heights home of five year by San Diego County. Police arrived at his door and informed all the inhabitants they had to vacate the premises. The lease, which was supposed to go to one of the tenants through probate, had been switched to another party. With nowhere to go, John found himself stuffed into a car with his belongings and three dogs. "Not everyone has family that they can go to," and John certainly did not.
John eventually found himself in a local shelter, which was an eye-opening experience. "I've never been in a shelter in my life, I felt like I was going into a prison. That was scary, very scary." He describes having to gather all his items at 6:30am every morning, when the shelter turns people out for the day, and the anxiety that missing a bus brought on, for fear that he would be too late to return for the night. On top of this, John's belongings were stolen constantly, and he was never able to fully rest while in the shelter. In one instance, a beanie was stolen right off of his head while he was sleeping. Not having a sense of safety, he found himself too anxious to sleep at night. After being physically threatened, John decided to leave the shelter with the hope he could find a safer option. He describes leaving the shelter as a walk of faith and believed he needed to put the situation in "God's hands." Throughout his lowest points, John remained steadfast in his faith and trusted that God would sustain him. 
After a series of unfortunate events, including a car accident, John finally had a breakthrough. A friend of his from NAMI told him about Serving Seniors and encouraged him to reach out. John met with Serving Seniors' caseworker, Jazmin Garcia, who helped him go through the process of finding transitional housing and getting him off the streets. When John speaks of that time, he beams as though he just got the news. It was the blessing he had been waiting for; finally his prayers had been answered.
Now John has the stability and safety he desperately craved. The security of having his own home has melted his anxieties away and allows him to get proper sleep. Now he is able to enjoy the little things like spending a comfortable day at home on a cold day, being able to come and go as he pleases without having to gather all of his belongings, and of course, volunteering as a pianist! He also enjoys coming into the Serving Seniors Gary and Mary West Senior Wellness Center for meals and the opportunity to socialize with others through our activities.  
John credits his faith for keeping him going through such an overwhelming time in his life and helping him maintain a hopeful and positive attitude. Even through his whole ordeal, John was always able to think of others and wanted to brighten their days with his music. You may even see him playing the piano in the Serving Seniors Gary and Mary West Senior Wellness Center dining hall. We're so happy John found Serving Seniors so he can continue to share his gift with others.