New Shelter for Seniors Changes Lives
It's been one month since Mayor Todd Gloria announced the opening of the Senior Bridge Landing Shelter, and already this new transitional shelter is changing lives for San Diego's unhoused senior population. It has become a safe haven for seniors.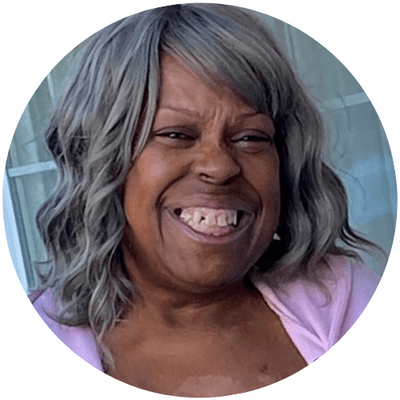 Seniors like Connie, who had been living out of a U-Haul van since August of last year. As a caretaker and nurse, Connie dedicated her life in service of others. In what should have been her retirement years, she found herself on the opposite side of the medical system. Connie fought six bouts with cancer, which drained her savings and resources. She was left with only her social security as a source of income. In San Diego, Connie's social security wouldn't even cover the cost of rent for a single room. But Connie didn't give up. Being the savvy and resilient person she is, Connie calculated that she could afford to rent and live out of a U-Haul van. It worked for some time, but the conditions of living out of the van started to severely impact her health while going through medical treatment. 
Thankfully, Connie connected with our housing team and became one of the first residents at the Senior Bridge Landing Shelter.
"I know there's many like me," Connie shared, her voice cracked as she attempted to hold back tears. "I'm very grateful and appreciative. And some say 'You still don't have a permanent place.' From where I've been to this? I have all my basic needs met."
Connie and other residents receive several onsite amenities, including:
Private unit and bathroom
Lunch and Dinner provided and delivered each week 
Free laundry services
Toiletries and hygiene products
WiFi and basic cable
Overnight security
Onsite Serving Seniors Case Management Team
Outdoor community space for social gathering
Pets are allowed
Currently, Connie is approved and awaiting a final move-in-date for permanent affordable housing. Until then, she has a safe place to stay and is able to work with our team for resources to get the medical attention she needs, receive healthy meals and meet her basic needs. 
Connie's journey continues and is an inspirational testament to this new housing facility. But she is one of many. Keiara Allen, Serving Seniors Homeless Services Manager who oversees the facility shared,
"Seniors Landing has created an environment of community, autonomy, and dignity by allowing seniors the space and team to do so! We've been honored to see seniors thrive in their own space and offer support as they prepare for their final housing opportunity. I'm happy to be apart of their journey and the mission of Serving Seniors in Homelessness Services!"
Thank you to our incredible community! Your support, Your contributions and Your advocacy efforts are the reason we could launch the Senior Bridge Landing Shelter. YOU are the reason Connie has roof over her head, a warm meal, and a bright future.