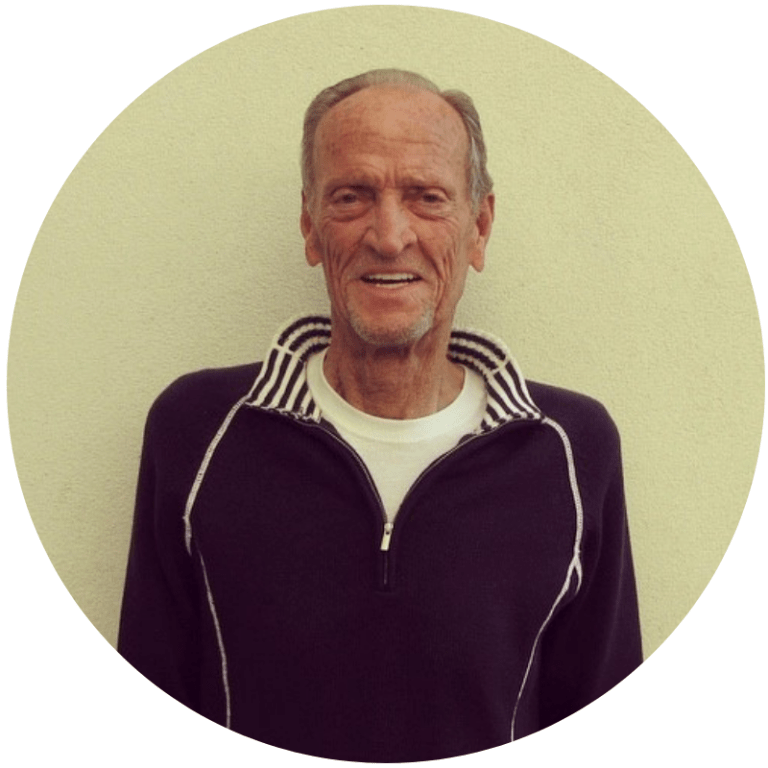 Like so many of our seniors, Bruce thought he was healthy until a single visit to the doctor changed everything.
A Vietnam veteran originally from Cape Cod, Bruce was working as a building supervisor in a large, upscale building in downtown San Diego, making about $60,000 a year, when he was diagnosed with prostate cancer.
While undergoing cancer treatment, Bruce also suffered a brain aneurysm and stroke.
His hospitalization and frequent surgeries drained his life savings, and within months of being released from the hospital, he suffered a heart attack.
The second time he was released from the hospital, it was onto the streets. He had been let go from his job, and no longer had a home to go back to. With no friends or family to ask for help, and too little money to afford a new apartment, Bruce became homeless at 67 years old.
Bruce lived on the streets for more than two years before finally, at the age of 70, he was introduced to Serving Seniors. After receiving a hot meal at our Gary and Mary West Senior Wellness Center, Bruce was set up with a Serving Seniors social worker. He had access to medical services, nutritious food and, most importantly, a compassionate team of people who truly cared for his well-being.
With his social worker's help, Bruce was moved into emergency transitional housing where he resided for three months, while having access to assistance programs and other supportive services that have helped him regain his health and independence.
Bruce hopes to return to work soon. In the meantime, to pay back his positive experience, he has become an advocate for homeless support programs and affordable housing, volunteering on advocacy committees and garnering public support. He is deeply invested in new affordable housing projects and wants to see them "done right." He visits each building site and talks to the people in charge, asking questions and sharing his experience as a facilities manager.
Bruce now lives in his own apartment and is completely self-sufficient.
"I've only ever wanted a clean, safe place to live, with a kitchen of my own," Bruce says, with tears in his eyes. "I've come so far."
Transitional housing is not the only service we provide for homeless and low-income seniors. Our comprehensive wraparound services include nutritious congregate and home-delivered meals, nurse case management, health education, lifelong learning and enrichment, social services, and permanent supportive housing. We work at nine sites across San Diego County, including our Gary and Mary West Senior Wellness Center and our two affordable senior housing complexes. Each year, Serving Seniors provides life-saving programs to nearly 5,000 seniors in San Diego County.
Please join us on #GivingTuesday to help us raise $8,000 to provide housing, meals, and supportive services for more homeless seniors like Bruce, or make your gift now at: https://donatenow.networkforgood.org/servingseniorsgt.