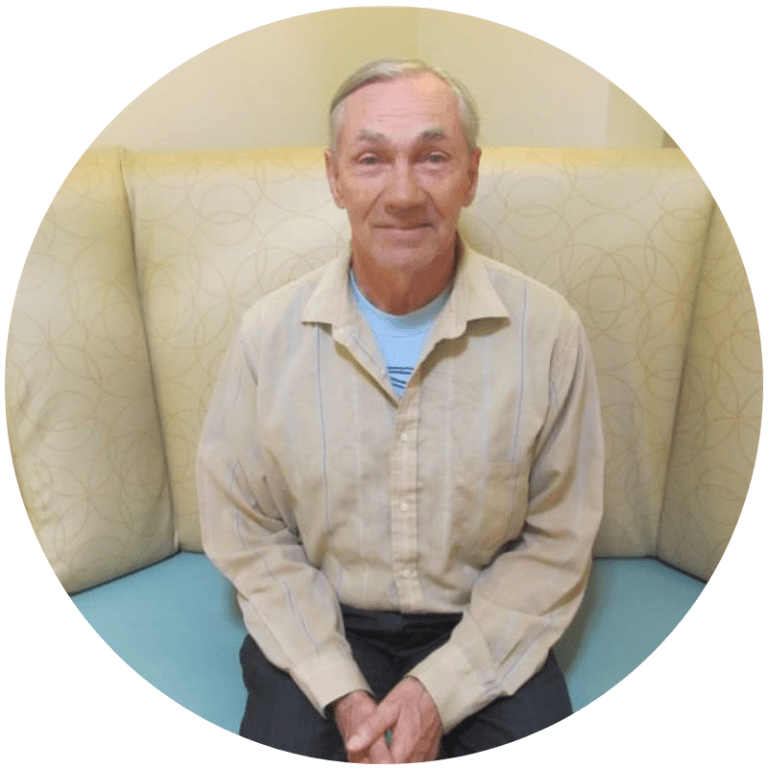 John is a familiar face around Serving Seniors. John was born and raised in Michigan and moved to California to get away from the cold. He has worked in everything from factories to driving trucks. He loves to be outside and in nature.
In 1996, John was involved in a serious motorcycle accident that put him out of work. Forced to live on social security alone, John struggled to make ends meet and, due to rising rents, eventually became homeless in his sixties.
John says the hardest part of living on the streets when you're older is having to sit on the sidewalk to put on your shoes. He dreamed of one day having a bed to sit on.
For nearly a year, John visited our Gary and Mary West Senior Wellness Center for breakfast and lunch, and even helped give back by volunteering around the center, without ever mentioning that he was living on the streets. It wasn't until we asked John for his home address, and he gave us the address of a homeless shelter he sometimes stayed at, that we realized John was homeless.
Immediately, John was set up with a social service case manager and placed in our Transitional Housing Program. After a few months at the Sara Frances, John was placed in permanent housing at the age of 70.
He is grateful to have his own apartment with his own bed where he can put on his shoes. "Now I've gotten a great place," he says, "the wait was well worth it. I feel so blessed."
He still volunteers at Serving Seniors wherever needed, but most days you can find him helping out with breakfast in the dining room. John is more than a client; he is a beloved member of the Serving Seniors family.
This #GivingTuesday, Serving Seniors will be raising funds to provide housing, meals, and supportive services to homeless seniors like John. Our goal is to raise $8,000 in 24 hours—enough to provide a transitional home and wraparound services to four homeless seniors.
Please help us reach our goal by making a gift to Serving Seniors on #GivingTuesday, or give now at: https://donatenow.networkforgood.org/servingseniorsgt/.