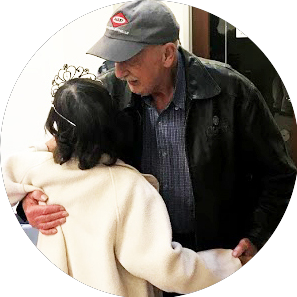 Many years ago, Trini and Terry came to the Wellness Center for the same reason. They wanted a hot, nutritious meal and access to Serving Seniors health and wellness services. Little did they know, their paths would cross and their lives would change forever.
After many years of eating together and spending time at the center, the two married. The couple was recently crowned Prom King and Queen at Serving Seniors Senior Prom sponsored by volunteer group, UCSD, the Life Course Scholar Program. Everyone enjoyed fun games, delicious pizza and Trini and Terry shared a special dance together.
Serving Seniors hosts monthly events and parties for seniors at our Wellness Center. If you are interested in sponsoring an event or party such as a birthday party (description below), contact Tim Ruis, Director of Activities & Volunteers.
Birthday Party Host: Help seniors celebrate their special day at our monthly birthday party. Hosts organize games and provide birthday gifts, decorations and raffle prizes. Time commitment: 1-2 hours per month.