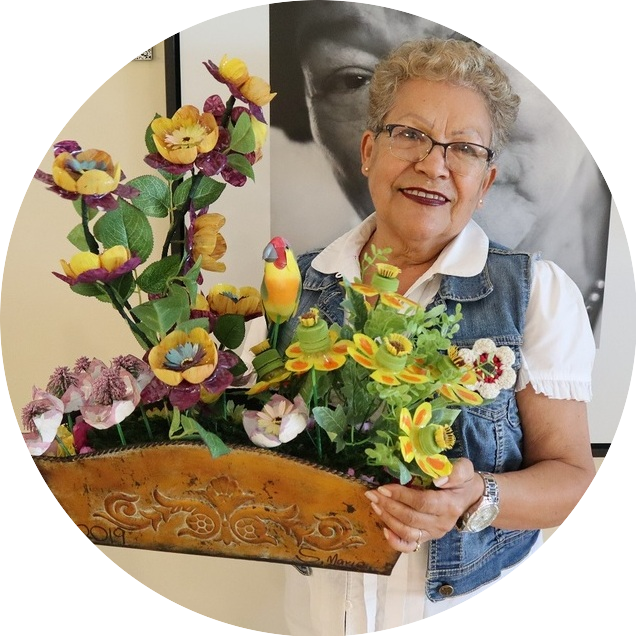 If you have ever visited Serving Seniors Gary & Mary West Senior Wellness Center you may have seen beautiful, vibrant floral displays delicately resting on each table in the dining room. But if you ever tried getting close enough to smell the flowers, you probably noticed they do not smell at all. They are made of plastic! These displays were created by Marie, a Serving Seniors client and volunteer. 
Marie is actively involved in Serving Seniors programs and activities.  Before the COVID-19 pandemic, she volunteered in the kitchen, participated in Feeling Fit Club exercise, and always brightened the day with hugs and friendly greetings! One of her most esteemed memories of being at the senior center is decorating the 300-person dining room with her creative craft.  
She makes floral arrangements from plastic bottles and other recycled materials. The idea came to her while watching television a few years ago. Marie saw a news report of the hazardous effects of plastic waste and ocean pollution. Also, at that moment, she was drinking water out of a plastic bottle. Voila! Marie knew she could make something beautiful from nothing. 
At first, Marie made the flowers for her son because he did not have any real flowers at home. She used an old greeting card to make the vase, plastic water bottles for petals, and painted bright colors for beauty.  
"As time went on, I was drinking more and more water," said Marie. "I remember throwing a bottle in the recycling and thinking to myself, 'no, I'm going to make more flowers!'" 
Marie started gathering more and more recyclable materials. 
"Ideas came up! Many, many ideas," Marie exclaimed. "Now I use the plastic fruit cups to make flowers, too." 
Last year, Marie made enough arrangements to decorate the Serving Seniors Dining Room and also entered her favorite piece into the annual Serving Seniors Artopia contest. It is a contest in which senior clients get to show and vote on individual pieces of art. She won first place! 
Her dream is to display all her arrangements in an exhibition someday.  
"And if someone wants to buy it the money will go back to Serving Seniors," she thoughtfully mentioned. 
While staying home, Marie is spending her time making more flowers. She cannot wait to bring them back to the senior center when the pandemic is over.