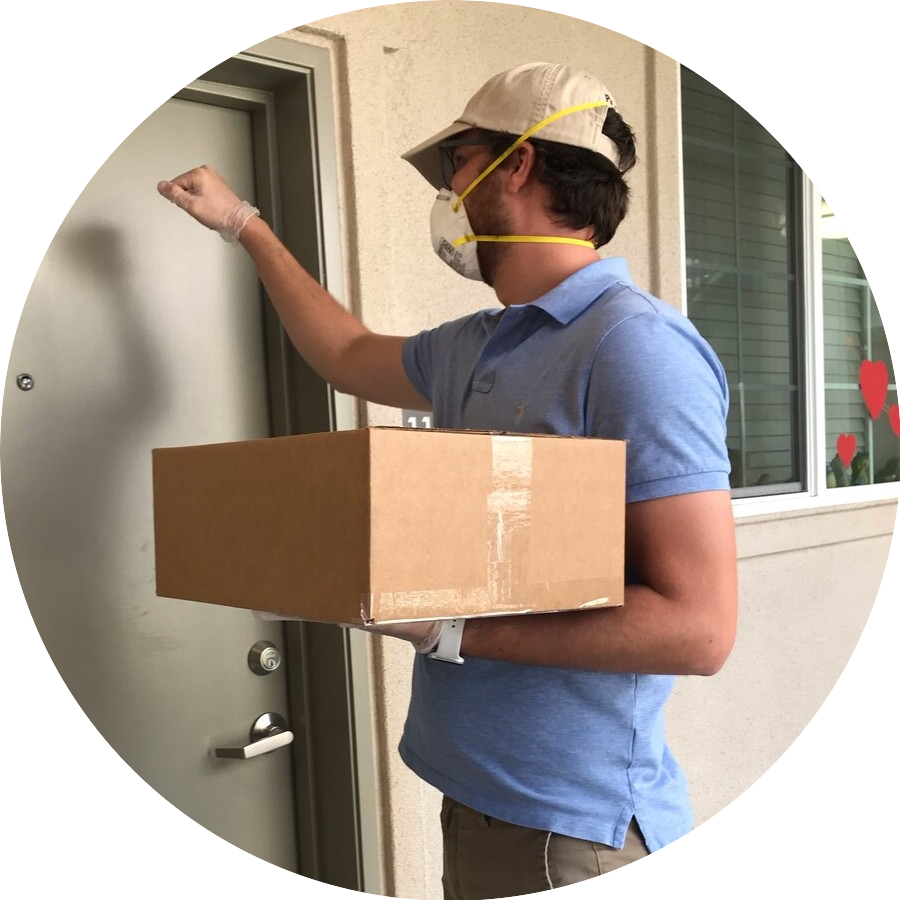 As the governor's stay-at-home order continues, Serving Seniors has adapted to meet the needs of seniors at home. This included transitioning all meals as to-go and home deliveries, ramping up services to serve more people, and meeting a greater community need.  
We are excited to announce that shelf stable meals are now being delivered to homes around the county! Pictured here, volunteers are going door-to-door to drop off meal boxes to seniors at Schmale Family Senior Residence, the newest Serving Seniors affordable housing site in Ramona.  
The shelf stable meals contain nonperishable foods to help better support seniors during the COVID-19 pandemic. To help keep seniors safe and healthy, this is the best method to encourage seniors to stay home and ensure they have enough to eat. Each box contains a total of 21 meals with additional crackers, cookies, juice, and fruit cups for snacks. Meals alternate from chicken, beef, ravioli, salmon and other options. Each box is designed to sustain a person at home for an entire week! 
At this time, more than 14,900 shelf stable meals have been served to seniors at home. Serving Seniors has expanded to meet this need with the help of staff and volunteers traveling to 18 new senior communities in north, south, east, and central county regions. 
This is all possible with the help of community members who have stepped up to show their support. Thank you for giving your time and efforts to help seniors in isolation! YOU made this possible.  
"The communities we are delivering to are so grateful to receive these meals," said Maria Theresa Harrison, Community Development Manager. "It's a feel-good operation all around." 
Serving Seniors is predicting to double the amount of shelf stable meal deliveries each week.
If you are interested in receiving shelf stable meals from Serving Seniors, call (619) 235-6572 and press 1 for help signing up.