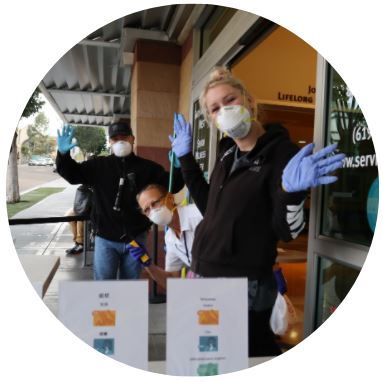 A Look at our Efforts Before COVID-19
Prior to closing the doors of our Gary and Mary West Senior Wellness Center to the public in March, our flagship location offered a full range of wraparound services to support low-income seniors 7-days a week.
These services included educational classes, onsite congregate dining, social activities, housing assistance, access to nurses, civic engagement opportunities and more.
"On a typical day, we had 500 to 600 people come through the center, and that's seven days a week, 365 days a year" said Paul Downey, President & CEO of Serving Seniors. "There's only a handful of senior centers in the entire country that are open seven days a week, so that in itself made us unique."
Adapting to the Times: How We're Navigating Through COVID-19
Even though the doors have been temporarily closed to the public, Serving Seniors Gary and Mary West Senior Wellness Center continues to act as a cornerstone for the senior community in San Diego. The COVID-19 pandemic has put an even larger strain on challenges older adults face in our community such as the digital divide, senior isolation and food insecurity. In the past months, we have risen to the challenge and continue to provide our senior clients with the support they need.
While many of our services needed to shift due to COVID-19, the Gary and Mary West Senior Wellness Center is still providing an array of services to meet the health and safety needs of seniors:
Daily To Go Meals. Seniors can pick-up breakfast and lunch to go everyday
Shelf stable meals. Volunteers and staff assemble and prepare boxes of nonperishable foods to help supplement meals for seniors
Distribution of pet food and supplies every month
Telehealth services are being provided for health and social service needs
Transitional and Permanent Housing Support. Full services are still being provided virtually. As needed, in-person appointments are also being provided through strict social distancing safety measures
Distribution center for high-need donations supplies for seniors
With active protocol already in place, all Serving Seniors staff are required to take a daily temperature check before entering any Serving Seniors facility, wear a mask at all times and wear gloves when handling food.
"Although the date for re-opening the Gary and Mary West Senior Wellness Center is still uncertain, we're working on return-to-work plans for our workforce as well as plans for the gradual opening of our senior centers.  The safety and health of our clients, staff, volunteers and community partners are all being considered as we develop our re-opening plans," Downey said.
Ways to Help Today