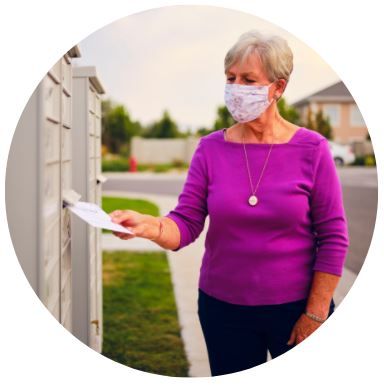 Now, more than ever, the role of seniors in the upcoming election is critical, and their collective participation holds power.
Records show that older voters consistently vote in greater numbers than any other age group.
Despite millennials taking to social media to voice their opinions, only 46% of Americans ages 18-29 voted in the 2016 election, compared to 71% of Americans ages 65 and older.
Next month, there will potentially be more older adults heading to the polling stations or casting their votes by mail as the baby boomers are now aging into the "Senior" category.
Issues the Impact the Older Adult Community
According to the UCLA Elder Index, which measures the income older adults need for basic needs, 37% of San Diego seniors are struggling to cover the costs of housing, food, healthcare and other basic needs.
Medicare, Medicaid, and Social Security remain high priority issues along with jobs, housing, transportation, and economic security. This expanded agenda reflects the increasing financial pressures today's older adults face due to longer life expectancies and the departure of pensions, ageism in the workplace, and the high cost of healthcare and high cost of living in big cities like San Diego.
Seniors Recognize Who They Elect Impacts Their Well-Being
With demographics in their favor, seniors will continue to make their voices be heard, and play an active role in shaping the policies that directly affect them, San Diego county and the nation as a whole.
According to a recent AARP poll in which older seniors were asked what one thing mattered the most when casting their ballot, 61% of them answered the candidate's stance on the issues they cared about, while only 9% said political party affiliation.
A Look at Voter Turnout Expectancy due to COVID-19
Historically, older adults have excelled at voting by mail, and this year should be no different. Despite the election taking place during a global pandemic, the San Diego County Registrar of Voters is committed to ensuring all voters can exercise their right to vote in a safe, secure and accessible manner.
All active registered voters in California will receive a ballot in the mail. To check your registration information, visit: https://rov.sandiegocounty.gov/rov/Eng/Voters.asp 
Additionally, the San Diego Metropolitan Transit System (MTS) will also be offering free rides on Election Day to polling sites and drop off locations. For more information, visit: https://www.sdmts.com/free-ride-day
For more information on the 2020 Presidential General Election, visit: https://www.sdvote.com/