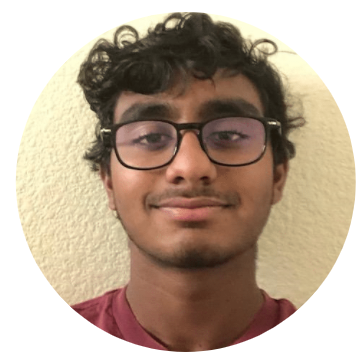 For Anirudh, as with most of us, 2020 hasn't gone as predicted. He never imagined having to say a final goodbye to his grandfather in India over video.
Anirudh's love for seniors transpired from the relationship he built with his grandfather. Every summer Anirudh and his family would travel to India to spend months at a time with his grandparents.
Sadly, a few years ago, his grandfather was diagnosed with Parkinson's disease and he watched him slowly deteriorate over time.
"It was heartbreaking to see him in that state," Anirudh said. "As a family, we made the best of the situation by coming up with things that we could still do with him, even though the list got smaller every year."
When his grandfather became critically ill this past spring, they wanted to travel to India and visit him in the ICU but were unable to do so due to COVID-19 travel restrictions.
Luckily Anirudh and his family were able to make video calls every morning and night to connect with his grandfather and tell him how much they loved him. "My dad and mom kept saying how we were doing really well because of his hard work," Anirudh said. "How the hardships my grandpa went through to educate my father gave our family this wonderful life."
After his grandfather passed away in June, Anirudh felt lost and needed closure. That is when he joined the Seniors Connections Volunteer Program at Serving Seniors.
"I kept thinking about why I was not able to do what I wanted to do for my Grandpa," Anirudh said. "Why I could not visit him. Then this thought came to me... Why not return the kindness strangers showed my grandpa to some others who might need it.."
Serving Seniors' Connections Program was launched during the COVID-19 pandemic to combat social isolation by connecting lonely seniors with local volunteers through regular weekly phone calls.
Anirudh immediately created a strong bond with one of his assigned seniors, Debbie.
Through their regular calls, Debbie and Anirudh would chat about their love for tennis, how Anirudh's family was doing and Debbie's pets.
Anirudh would also help Debbie cope with sadness and work with our Nurse Case Managers to get supplies delivered to Debbie's home if needed.
"I enjoy being a volunteer in Connections Program very much," Anirudh said. "Even though it might seem like this program helps only seniors, I feel like it has also helped me. It is a blessing and I am grateful to have this opportunity!"
Anirudh and Debbie continue their regular calls and look forward to the day that they will be able to meet face-to-face.
For more information about our Senior Connections Program or more ways to volunteer, click here.