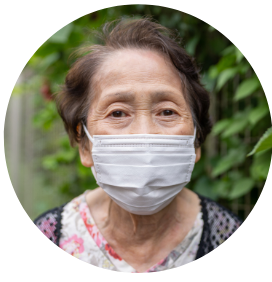 "I'm a bit emotional. I've been dealing with so many different stressors." At age 77, Diane has been faced with one of the most challenging years of her life.
Diane has been living at Serving Seniors' Potiker Family Senior Residence for almost four years. Before the COVID-19 pandemic, she spent much of her time at our Senior Wellness Center socializing with friends and participating in the classes and activities onsite. That quickly changed with the onset of COVID-19.
Since March of last year, human interaction and face-to-face connection has been nearly non-existent in her everyday life. Like thousands of low-income seniors in the San Diego community, Diane has been quarantined in her room and experienced the crippling effects of social isolation for the last eleven months.
"I feel like I was hit with a brick," Diane shared. "You get to the point of 'Now what am I supposed to do?' and I just can't see myself being able to get through this."
Connecting with Serving Seniors has been a lifeline during this time. Diane started receiving home delivered meals. Moreover, for her mental health, she connects with other seniors over the phone and checks in with Serving Seniors social workers and Nurse Case Managers to stay on top of her medical needs. In fact, as a former nurse herself, Diane quickly formed a strong bond with Serving Seniors Nurse Case Manager, Marilyn over weekly phone conversations and check-ins.
"People want to socialize and it's very difficult to not have people to talk to," Diane said. "I'm so appreciative of all the good people working at Serving Seniors."
As with many older adults, Diane still worries about her ability to receive the COVID-19 vaccine due limited access to transportation and the internet. But she's staying hopeful. She continues to work with her doctor and the nursing team at Serving Seniors. Even with the social, emotional and mental struggles Diane and many low-income seniors have faced throughout the pandemic, she perseveres and draws hope from continued services and support she receives from a caring San Diego community.
"There's always a way of connecting with others," Diane said. "Even though we're in this crisis at this time, you're all still extending yourselves to help me. I'm very grateful for that."