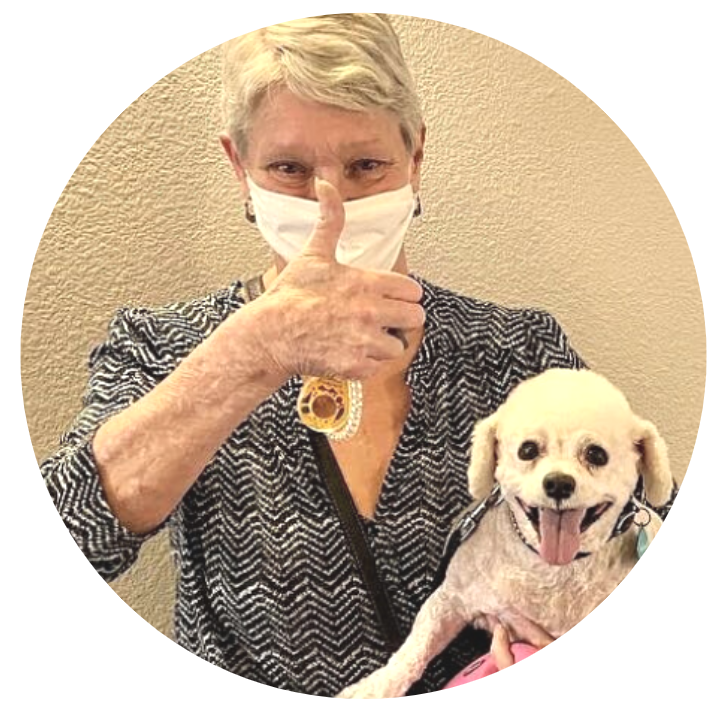 For over a year, thousands of seniors have been combatting depression and social isolation due to the COVID-19 pandemic.
With her family far away in England, Rosemary experienced little face-to-to face interaction for months at a time and had to rely on her six-year-old dog Kami for comfort and companionship.
"I have no family near me, " Rosemary said. "That's made this past year really hard."
Her dog Kami has been a lifeline and source of hope during Rosemary's hardest times. Pet companionship provides comfort and a sense of purpose, which is especially beneficial for lonely and isolated seniors. But because most of the seniors we serve live on less than $1,100 per month, supporting a pet isn't feasible when they're choosing between basics necessities like rent and food every month.
Thankfully, Rosemary and other seniors have been able to receive pet food and supplies every month through our Pet Food Distribution Program.
Support like yours and our community partners has been essential during the COVID-19 pandemic and is the reason Rosemary doesn't have to choose between feeding herself or her furry friend. Not only has Kami brought Rosemary an immense amount of joy, but she has warmed the hearts of many residents at Potiker Family Senior Residence.
"Kami is a therapy dog," Rosemary said. "She brings so much joy to so many residents."
As activities resume and the doors to our facilities reopen, Rosemary is looking forward to bringing Kami to the activities and events so she can continue to spread as much joy as she can to seniors in need.
"It makes my day seeing people so happy," Rosemary said. "Kami is a people person, and I can't keep her from that."
---
In the coming weeks, your support is greatly needed to help reengage thousands of low-income seniors who have been in isolation. Together, let's create hope for seniors through our Give65 Event, July 13th -15th. Learn more today at give65.org/servingseniors.