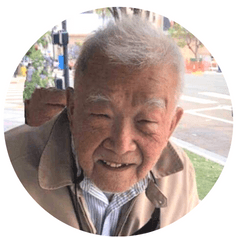 Get up. Get dressed. Connect with the community.
For over 15 years, this has been Cunya's daily routine - a routine that has kept him physically active, social with others and able to live on his own at 101 years old. 
Born on June 23, 1920, Cunya is one of Serving Seniors' oldest clients, who will be celebrating his 102nd birthday later this month.
Despite our facilities being closed during his milestone birthday last year, Cunya still visited our Gary and Mary West Senior Wellness Center to pick up his to-go meal and was greeted with a warm birthday surprise.
"He was so happy we sang him happy birthday when he picked up his breakfast," said Kathy, Serving Seniors' Nutrition Site Supervisor. "He lives across the street and picks up his meals every day on his own."
A regular at our Wellness Center, Cunya enjoys a wide variety of our wraparound services - nutritious meals in the dining room, Community Education classes, Cyber Café, and our dental center.
Even though dealing with dementia and hearing and vision loss has been challenging for Cunya, Serving Seniors has provided him with the programs and services for a happy and fulfilling life. Cunya is so happy to be back at our Wellness Center every day and is looking forward to ringing in 102 years with our dedicated staff members and his supportive senior community!
---
June marks Alzheimer's & Brain Awareness Month. Worldwide, more than 55 million people are living with Alzheimer's or another dementia. Take action this month to join in the conversation and raise awareness that can inspire others: Join the Conversation