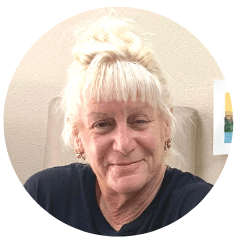 "I have nowhere to go."
These were the words that crossed Pamela's mind after she was laid off from her bus driver job at the airport due to COVID. This job was not only her routine the last few years, but her safety net and her source of a stable income.
Keeping her head high, Pamela did everything she could to stay on her feet and out of homelessness. While relying on unemployment and struggling to get by, she connected with Serving Seniors' Transitional Housing Team and moved into Potiker Family Senior Residence.
Since living here, Pamela's life has changed for the better and she has been able to receive critical support from Serving Seniors at a time when she was in desperate need. When Pamela's car was recently ticketed and her car registration came up for renewal, she was worried she'd lose her housing.
Through our Senior Emergency Assistance Fund, Pamela was able to pay her parking fines, car registration, and was still able to make her rent payments. 
"Without Serving Seniors, I'd be on the streets," Pamela said. "I'm now calm... I know if I need help, they will help me."
Today, Pamela is back working at the airport. She gets healthy meals in the dining room and participates in the activities at Serving Seniors' Potiker Family Senior Residence.
Thanks to your support, Pamela was able to use the Senior Emergency Assistance Fund when she was in crisis.
"I finally feel safe, Pamela said. "I don't feel alone, which I never expected."
---
Thank you for donating to our Give65 Event July 12-14 to help replenish our Senior Emergency Assistance Fund! Because of your support, more seniors like Pamela can pay rent, meet medical needs receive home care, and more. See your impact life-changing impact: give65.org/servingseniors.