August 10th: Mary Gendron Named Serving Seniors Board of Directors Chairperson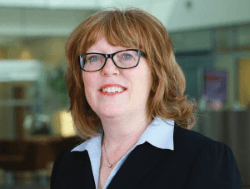 August 10, 2023
Contact:              Gayle Lynn Falkenthal, APR, Fellow PRSA – Serving Seniors
                              619-997-2495 or GLF@SAN.RR.COM
Mary Gendron Named Serving Seniors Board of Directors Chairperson
Mary Gendron, a longtime advocate for San Diego's vulnerable older adults, has been named chairperson of the board of directors for Serving Seniors, a nonprofit services organization. Gendron will serve a two-year term from July 1, 2023, to June 30, 2025.
Gendron has previously served as chair of Serving Seniors' Philanthropy Committee and a member of the Executive Committee.
"There is no issue more top of mind for San Diegans than our homelessness crisis. Mary Gendron is stepping forward at this critical time, which speaks volumes about her dedication to our mission," said Paul Downey, President/CEO of Serving Seniors. "Each year we face increasing need for our services. But we also see exciting opportunities due to the recognition of the challenges we face to support older adults threatened with the loss of housing.
Gendron assumes her leadership role as the severity of older adult homelessness continued to increase in scope in the San Diego region. Tremendous new challenges remain ahead as economic forces continue to affect older adults at risk of losing housing.
Gendron is an award winning, innovative Chief Information Officer, and an expert in bringing about cultural and operational transformations to a variety of industries leveraging technology knowledge, vision, strategy and leadership. She will bring all these assets to her new leadership role at Serving Seniors.
"Serving Seniors and I share a commitment to supporting our community's low-income and homeless older adults," said Gendron. "The far-reaching impact of this well-run organization is built on its efficiency, dedication, and financial solvency. Its impressive half-century of service provides the foundation for achieving even more ambitious goals in the years to come. I hope to contribute to this effort in my role as board chairperson."
Gendron is the former Senior Vice President and Chief Information Officer at Qualcomm, the world's leading wireless technology innovator and the driving force behind the development, launch and expansion of 5G. Prior to her retirement in 2021, Gendron led a global IT organization including Qualcomm's cybersecurity initiatives, and served as a member of the company's Ethics Committee.
In her role of CIO, Gendron drove significant cost reduction while increasing capabilities, and will contribute this expertise to ensure Serving Seniors is providing services in the most efficient, effective way possible while being a good steward of donor funds.
Gendron is a lifelong champion for creating and sustaining a diverse and inclusive workplace that empowers employees of all backgrounds. In 2019, Gendron was honored with HMG Strategy's Top 100 Technology Executives to Watch Award for her achievements in innovation, business transformation, courageous leadership and digital disruption. She was also recognized for empowering women in STEM with Athena's 21st Annual Pinnacle Award in the "Individual in Technology" category.
About Serving Seniors
Founded in 1970, Serving Seniors is a 501(c)(3) nonprofit organization based in San Diego, California, dedicated to serving low-income adults aged 60 and over. A leader in senior advocacy and programming, Serving Seniors has created an innovative model of comprehensive services including nutrition meals, housing, health and social services and lifelong learning opportunities to thousands of seniors in need. It is the largest provider of meals to seniors in the county, and one of the only organizations in the nation providing a robust range of services to vulnerable, at-risk older adults.
Serving Seniors President and CEO Paul Downey has been instrumental in the organization's growth over the past 28 years. Since being appointed the role in 1995, Downey has guided the nonprofit's innovative efforts to provide supportive services focused on keeping low-income seniors healthy and independent. Under Downey's leadership, Serving Seniors has grown to provide over one million nutritious meals and coordinated services to 7,000 older adults each year. Read Serving Seniors' groundbreaking report, Senior Homelessness: A Needs Assessment.