November 20: Serving Seniors Named 2023 Top Workplace in San Diego County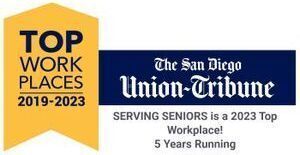 Contact:        Gayle Lynn Falkenthal, APR, Fellow PRSA – Serving Seniors
                       619-997-2495 or GLF@SAN.RR.COM          

Serving Seniors Named 2023 Top Workplace in San Diego County
One of just eight nonprofits in 10th year on list

SAN DIEGO, California – For its fifth straight year, Serving Seniors was named of one of The San Diego Union-Tribune's "Top Workplaces for 2023." The annual awards are based on anonymous employee feedback. A majority of Serving Seniors' employees participated in this year's assessment.
Serving Seniors is one of just eight nonprofits out of 105 employers named to the 2023 list. It has made the list in ten out of the 11 years the awards program has taken place. This year's recognition comes while navigating the impact of older adult homelessness on the San Diego region as the Serving Seniors team meets the growing need for services supporting low-income and homeless older adults.
"According to this year's Point In Time Count, three out of every ten San Diegans currently experiencing homelessness are over age 55. Our employees continue to meet this challenge with enthusiasm and grace, bringing their best efforts to improve their lives however they can," said Serving Seniors President/CEO Paul Downey.
The Philadelphia-based survey firm Energage determines the recipients based on a scientific confidential employee survey process. The survey measures 15 drivers of culture critical to organizational success such as alignment, execution, and connection.
"Earning a Top Workplaces award is a badge of honor for companies, especially because it comes authentically from their employees," said Eric Rubino, Energage CEO. "That's something to be proud of. In today's market, leaders must ensure they're allowing employees to have a voice and be heard. That's paramount. Top Workplaces do this, and it pays dividends."
In addition to nominations, Energage reached out to eligible companies in San Diego County with 50 or more employees. This year, 3,674 employers in San Diego County were invited to participate. Employers can be public, private, nonprofit, or governmental.
Employers were ranked based on their employee survey feedback. Survey results must include a minimum 35% of all employees to be considered valid.
Serving Seniors staff are supported by the contributions of more than 400 compassionate volunteers who are also devoted to the mission of the organization, as well as the many generous donors who make their work possible.
About Serving Seniors
Founded in 1970, Serving Seniors is a 501(c)(3) nonprofit organization based in San Diego, California, dedicated to serving low-income adults aged 60 and over. A leader in senior advocacy and programming, Serving Seniors has created an innovative model of comprehensive services including nutrition meals, housing, health and social services and lifelong learning opportunities to thousands of seniors in need. It is the largest provider of meals to seniors in the county, and one of the only organizations in the nation providing a robust range of services to vulnerable, at-risk older adults.
Serving Seniors President and CEO Paul Downey has been instrumental in the organization's growth over the past 28 years. Since being appointed the role in 1995, Downey has guided the nonprofit's innovative efforts to provide supportive services focused on keeping low-income seniors healthy and independent. Under Downey's leadership, Serving Seniors has grown to provide over one million nutritious meals and coordinated services to 7,000 older adults each year. Read Serving Seniors' groundbreaking report, Senior Homelessness: A Needs Assessment.