Our Wish List of items are needed to supplement the various needs of our clients during the COVID-19 Pandemic. Due to supply shortages and financial uncertainties, these high-need items are now more essential than ever. 
With health and safety as our top priorities, all donation deliveries are by appointment only and we can only accept items on the Wish List at this time. Please contact Elle Leidy, Activities and Volunteer Coordinator, elle.leidy@servingseniors.org or (619) 487-0605 to schedule a donation delivery.
Thank you for helping us fulfill our wish list of items and supporting the community in a time of need! Learn more about our pandemic response efforts by visiting our COVID-19 Updates page.
Wish List
*The greatest current need is getting supplies of cloth masks to the seniors. If you or someone you know makes face masks, please consider donating to Serving Seniors. 
Masks: surgical, N95 Respirators, and cloth
Tissues
Toilet paper
Disinfecting wipes, sprays
Shampoo
Conditioner
Incontinence products 
Soap
Hand soap
Hand sanitizers
Gloves
Paper towels
Toothbrush/toothpaste
Blankets
Rain ponchos 
Umbrellas
Bags for delivering items (Reusable preferred, but not necessary)
Letters of kindness, support and encouragement to senior clients in isolation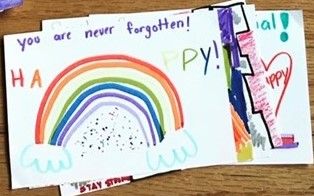 Send a Card
Happiness thrives, but still needs your help. Many older adults would benefit from friendly connections during this deeply isolating time. The health impacts of loneliness are significant. Please consider writing letters, notes of encouragement or drawings. This can be a great at-home activity for youth and helps deepens intergenerational connections. Cheerful messages from all ages are encouraged! 
Drop-off cards: For health and safety reasons, appointments are required to drop-off all donations, including letters. Please contact Elle Leidy, Activities & Volunteer Coordinator, elle.leidy@servingseniors.org or (619) 487-0605 to schedule a drop-off time.
Mail cards: 

Gary & Mary West Senior Wellness Center
Attn: Elle Leidy
1525 Fourth Ave. 
San Diego, CA 92101