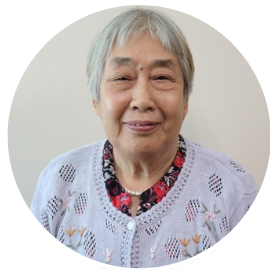 A resident at San Diego Square, in Downtown San Diego, Mary has been a familiar face around the Gary & Mary West Senior Wellness Center for more than six years. Before the COVID-19 pandemic temporarily closed the doors of our Wellness Center, she was a regular.
Mary was having trouble finding a place to live when she was introduced to Serving Seniors by a friend. After her daughter helped her apply for affordable housing, she was soon placed in San Diego Square.
Since residing with Serving Seniors, Mary soon made herself at home. Before the pandemic, she enjoyed volunteering in the Wellness Center by sweeping the dining room and cleaning tables. Mary also took regular health, exercise and travel classes and enjoyed playing bingo with her friends. One of her favorite places in our Senior Wellness Center is the Cyber Café, where she has the ability to look up lyrics to her favorite songs.
She loves celebrating with her friends at the monthly senior birthday party and said, "When you get older your life becomes monotonous. Coming here makes me feel fulfilled and excited."
Although the Wellness Center is temporarily closed, Mary is happy to know that she will have a fun and welcoming place to come back to. "Serving Seniors has made my life richer," said Mary.
We miss being able to see the seniors every day, especially during the holidays, but there are still ways we can stay connected and help at-risk seniors stay healthy and safe until we can all be together in-person again: Learn more on GivingTuesday 2020