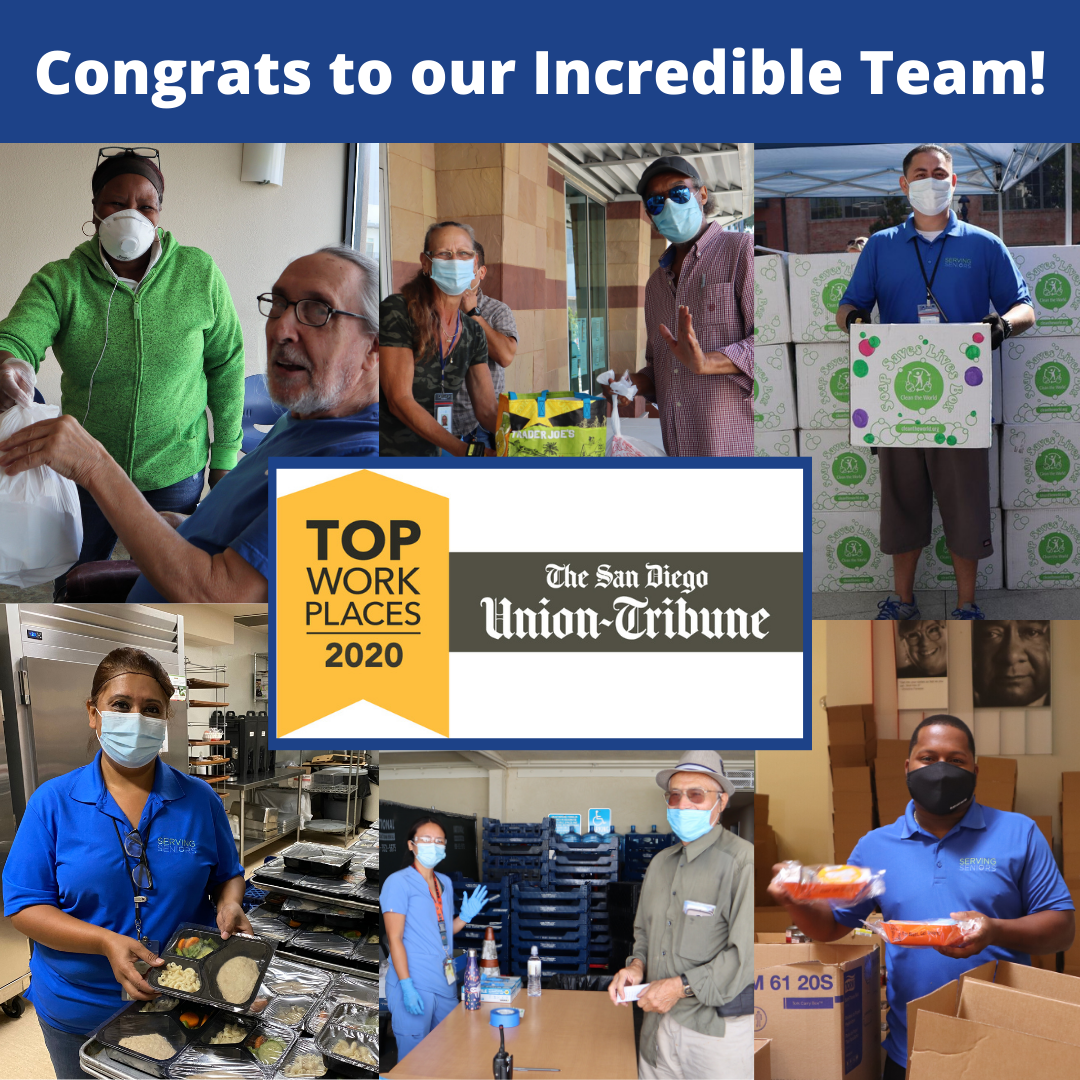 Serving Seniors Showcases 50 Years of Service to San Diego's Senior Community
The San Diego nonprofit releases their 2019-2020 Annual Impact Report, highlighting the immense influence in lives across the County.
San Diego, Calif., November 13, 2020—Serving Seniors, a San Diego-based nonprofit helping older adults in poverty live fulfilling lives through health-promoting services, today released its annual impact report.  The report highlights the organization's steadfast dedication to the senior community throughout San Diego County by helping them live in health and happiness.
"From the beginning, we have identified and worked to help San Diego's most vulnerable population, our seniors," said Paul Downey, President/CEO of Serving Seniors. "I could not be prouder of our team for providing record-breaking levels of service under difficult circumstances caused by COVID-19."
Over the past five decades, Serving Seniors has grown from a single site in downtown San Diego with the mission of providing one meal a day, to having 15 locations across the county and bringing a wraparound support system of services. The 2019-2020 fiscal year marked several new milestones for the organization with a record number of clients and meals, to expanding their nutrition and housing programs into new areas of San Diego County.
The nonprofit organization brings a unique, whole-person approach to its mission and this approach is the cornerstone of their comprehensive offerings. From nutrition to large-scale advocacy for the community, Serving Seniors broke records across the board in their mission to ensuring that low-income seniors have their most basic needs met to live happy and healthy lives. The organization's 2019-2020 annual impact report highlights these achievements and puts tangible numbers to their commitment to the community:
Nutrition:

Surpassed 950,000 meals served in a single year
Fed over 7,300 San Diego County seniors
Increased food security for 92% of clients
Reduced healthcare costs for 39% of seniors

Housing

Broke ground on its fourth affordable housing residence
Housed 500 seniors
Increased housing navigation services and transitional units for homeless seniors
Provided over 400 affordable housing units for financially insecure seniors
Had 83% of transitional housing graduates move into permanent housing

Health & Social Services

Performed over 8,500 social service visits
Increased knowledge of chronic health conditions and how to prevent them for 90% of seniors

Enrichment & Activities

Improved social health for 78% of seniors with over 900 activities during a pandemic
Increased social interaction and forging new friendships for 92% of seniors
The work of Serving Seniors would not be possible without the generosity of its donors and the help of more than 576 volunteers. Those volunteers serve meals, teach classes, host social activities, and so much more.
 In addition to the compassion of volunteers, Serving Seniors staff bring the mission of the organization to life and are the heart of the organization. Serving Seniors was named a San Diego Union Tribune Top Workplaces in 2020. This award is determined solely through employee feedback and further shows that Serving Seniors mission is a thread that weaves through every employee and unifies the entire organization to continue doing great work.
To learn more about Serving Seniors mission and programs, please visit www.servingseniors.org.
About Serving Seniors
Founded in 1970, Serving Seniors is a 501(c)(3) nonprofit organization based in San Diego, California, dedicated to serving low-income adults aged 60 and over. A leader in senior advocacy and programming, Serving Seniors has created an innovative model of comprehensive services including nutritional meals, housing, health and social services and lifelong learning opportunities to hundreds of seniors in need. It is the largest provider of meals to seniors in the county, and one of the only organizations in the nation providing such a robust range of services to vulnerable, at-risk older adults.
Serving Seniors President and CEO Paul Downey has been instrumental in the organization's growth over the past 25 years. Since being appointed the role in 1995, Downey has guided the nonprofit's innovative efforts to provide supportive services focused on keeping low-income seniors healthy and independent.
Media Contact:
Lindsay Denietolis
lindsay@theforumpr.com
760-525-8857