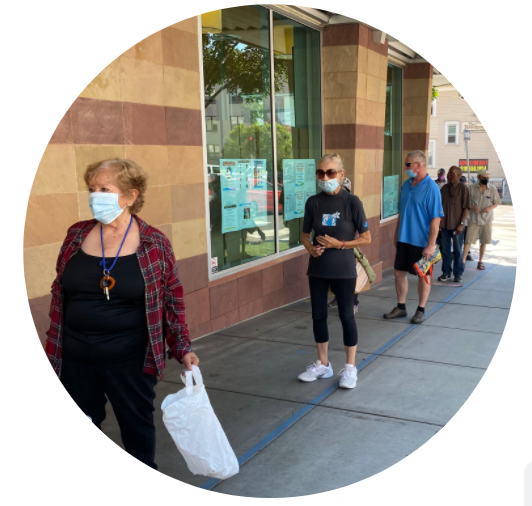 When looking at the year ahead, Serving Seniors is hopeful to reopen the doors of our flagship location, the Gary and Mary West Senior Wellness Center and various congregate dining sites in 2021.
The Serving Seniors leadership team is currently preparing in-depth reopening plans with the safety and health of our clients, staff and volunteers as our utmost priority. Additionally, our staff is analyzing our current services and strategizing ways we can make our sites as beneficial as possible for seniors given the new climate in which we are living. 
We have set a tentative reopening launch date for July 1, 2021, should it be safe to do so. Our general reopening strategy is divided into three main categories:
1. Continue Full Services at Serving Seniors Gary and Mary West Senior Wellness Center
Onsite congregate dining
Educational classes
Social activities
Health and social services
Housing assistance
Access to nurses
Access to dental care
Civic engagement opportunities and more
2. Expand Services at Our Other Senior Centers Throughout the County
Our focus is to offer more robust services - similar to our Serving Seniors Gary and Mary West Senior Wellness Center.
Onsite dining
More opportunities for socialization
Onsite activities
Health and social services offered
3. Housing Updates
City Heights: Construction is going well on our newest affordable senior housing community at Fairmont and El Cajon. This 117-unit complex is on track to open next spring. For more information on this housing project, click here.
Clairemont: We are diligently working to put the financing together for our newest housing community located at Mt. Etna and Genesee. Both the City of San Diego and the County have given their approvals for this 162-unit complex. Our goal is to are break ground in 2022.
Celebrating 50 Years
2020 marked 50 years of Serving Seniors providing life-saving services to the older adult community. We weren't able to celebrate last year as planned, but we look forward celebrating the incredible achievements over the last 50 years with volunteers, supporters and the San Diego community in the year ahead – including a special gala celebration in the fall of 2021!
SAVE THE DATE: Our 50th Anniversary Sunshine Gala has been rescheduled for September 30th, 2021! Stay tuned for more event details about the Gala and other 50th Anniversary activities in the coming months.
Moving Forward Together
The road ahead is a long one filled with uncertainty, but if we work together great things can happen. The role of older adults in the assemblance of civility and lowering the temperature as the pandemic subsides will be critical. Their wisdom of living many years and seeing the before, during and after of previous trauma and crisis in the world will prove invaluable.
Additionally, further bridging generations to engage with and listen to the younger generation will bring fresh perspectives, hope and vision for the next steps.
We look forward to serving our seniors in person again this year. To be the first to know what's going on with Serving Seniors, subscribe to our newsletter today.